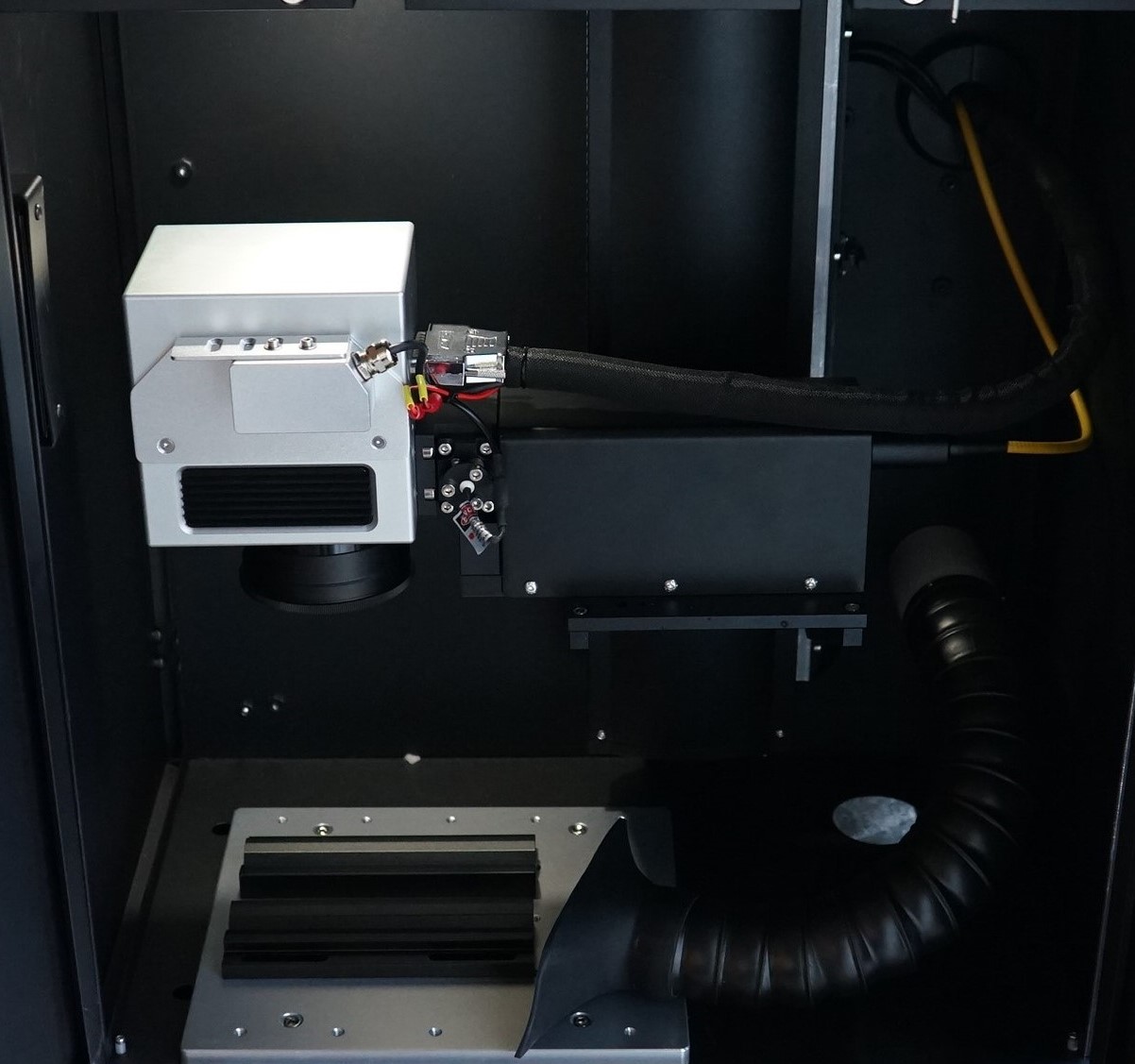 is one of the most compact and versatile machines in the market. The SF-20CTI is capable of marking material with incredibly high speeds and high marking resolution. The SF-20CTI is the ideal machine for small to medium bushiness.
| Marking Area | 100 mm x 100 mm (options available) |
| --- | --- |
| Laser Power | 20W-50W (options available) |
| Cooling Type | Air cooled |
| Minimum Line Width | 0.02mm |
| Locating Accuracy | ≤+0.01mm |
| Max Speed | 12,000 mm/sec |
| Compatible Formats | RLD .DXF .bmp .JPEG .TIFF.... |
| Drive System | Mirror galvanometer laser positioning |
| Working Environment | Temperature:0-45C,Humidity 5-95% |
| Aplicable Materials | Metals and plastics |
| Compatible Software | CORELDRAW,PHOTOSHOP, AUTOCAD,SOLIDWORKS,etc. |
| Power Requirements | Single Phase 110V / 220V 10A/5A |
| Machine Size | 400 mm (L) x 500 mm (W) x 600 mm ( H) |
| Weight | ~ 30 Kg |
| Gross Power | <1200 W |
SOFTWARE
Spark laser machines use a simple user friendly software that support all your familiar CAD programs. Supporting a wide range of Vector files and Raster files. The software is capable of processing images and drawings for marking.
The software allows you to communicate with the machine by controlling aspects like speed, power and position of the machine. There are many useful features embedded within the software that make it unique and user friendly, like the preview function that show the location and size of the marking area with a red dot laser pointer.
You are more than welcome to request a demo version of the software to test!
FEATURES
Over Heating Protection & Safety Sensors:
Every Spark laser machine comes with built in heat sensors and obstruction sensors in order to reduce the risk of accidents and machine failures.
Easy Focus & Auto focus
Our Fibre lasers are designed to be extremely user friendly and flexible. Every Fibre machine is equipped with a precision lead screw z-axis that can be manually manipulated to adjust to obtain the correct focusing distance from work surface.
The SF-20CTI is equipped with advanced laser auto focusing mechanism to increase efficiency and guarantee maximum accuracy.
Forced Air Cooling
All Spark Fibre laser machines are equipped with specially designed air cooling systems to ensure maximum performance and continuous operation. By using strategically placed air cooling, the Fibre laser source and components are kept at ideal temperature in order to avoid strain on the machine and components.
Laser Source
Every Spark machine is equipped with the highest standard laser sources available in the market. Our Fibre laser's have been vigorously tested and documented to make sure they can deliver a continuous and powerful laser beam for the maximum amount of time possible.
Low maintenance
Spark Fibre laser machines are design to reduce maintenance costs and machine down times. The design incorporates features such as dust resistance, solid steel frame and minimum moving components.
SUPERIOR OPTICS
The SF-20CTI is built using the best materials and components available on the market. Spark fiber laser markers utilize high quality F-theta lenses with minimal energy loss and diffraction. Guaranteed to provide maximum performance and reliability.
Fiber laser
The Fibre laser source in our machines is the best the market can offer. The laser sources are vigorously tested to guarantee smooth and stable operation. With over 20,000 hours of laser life time, the Fibre laser in our machines will serve your business for many years!
WARRANTY & SERVICES
All Spark laser machines come with 3 months of SparkWarranty and 1 year manufacturer warranty. SparkWarranty covers every aspect of the machines, we guarantee your machine being in peak condition for you to use. Manufacturer warranty is also processed through spark and additional extended SparkWarranty is available.
Our machines come with everything required accessory to get our customers started and working, that includes training and initial calibration by the Spark team. When you buy a machine from Spark, you join the Spark family, and we will always make sure you are happy with your purchase.
ACCESSORIES & MODIFICATIONS
Fibre laser power upgrade